Prepare Your Van Same Like Living Room
Very fashionable for several years now, the Van Life is a way of travelling that is increasingly appreciated by everyone. 
Choosing your vehicle, fitting it out or obtaining approval are questions you should ask yourself before you even begin your "Van Life" adventure. But, already, what is Van Life? By transforming a commercial vehicle into a fitted van, you can take to the roads of France, Europe and even the whole world with your van. Like a motorhome, the camper van allows you to travel without thinking about where to sleep at night (well, there are still some regulations). 
Your van looks like you, it is an extension of your home. You arrange it as you see fit, decorate it and make it functional, but all that requires knowledge before embarking on this great adventure. Here is our guide to converting a van into a campervan. So, ready to hit the road? 
Choose your vehicle 
The first step is the most important. It's all about choosing the right vehicle to convert into a van. And that can't be improvised! Height, length, motorization, and bearable load are all parameters to take into account before any purchase. The idea of ​​converting a van into a campervan requires asking yourself and thinking about all the possibilities. Because indeed, a van that is too long could prevent you from climbing certain narrow roads in Europe, just as a van that is too high could prevent you from entering an area reserved for campsites to rest in the evening. 
The different utilities
Three types of utilities can be, according to the analysis of the experts, transformed into a fitted-out van. These are ultra-compacts, medium vehicles and large vans. 
The ultra-compact, like Renault's Kangoo, is perfect for those who want to travel for a few days. Indeed, the Kangoo offers little space in the back and for a long stay, this would quickly become a problem. On the other hand, it is extremely easy to drive, especially in town! So, for those looking for a vehicle for a short getaway between town and country, the Kangoo is the right plan. 
The Ford Transit or the Renault Trafic are excellent travelling companions. Larger than the Kangoo, they allow you to make the most of the space. With less than 5 meters long and 2 meters high, they allow you to enjoy easy driving in all circumstances. So whether you're in town or on mountain roads, the Traffic or Transit will fit perfectly. 
Finally, if you are looking for more space, opt for the large vans. More imposing, they nevertheless allow you to have all the space necessary to perfectly optimize your van. For those who wish to take a long-term trip, the Peugeot Boxer is the ideal choice. However, a smaller van as mentioned in the previous point may also be perfectly suitable for a long stay.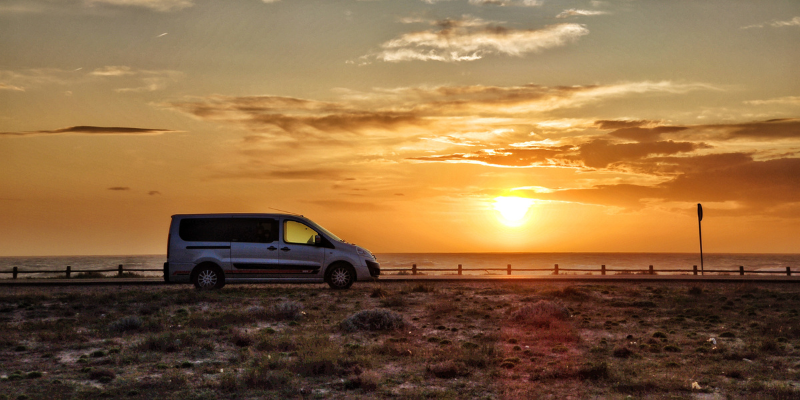 Fit out your van 
The second stage is the fitting out of the van. A piece of cake for you, because it is the realization of your dream. That's it, you have your vehicle and you can now create from A to Z the space you want. A kitchen area, a bedroom/living area, a dining area and decoration. Let's take a look at everything you need to do to perfectly convert your van into a liveable van. 
The key steps
The first thing to do is to remove everything. Everything in the back of your van has to go. Absolutely everything. Only a flat surface should remain. Thus, you will already be able to visualize the space and make the first plans.
The second thing to do is insulation. Corkboard, extruded polystyrene or glass wool, the choice is yours. Note, however, that it is important not to skimp on the price when it comes to insulation. Indeed, this is what will allow you to be protected from cold, heat and humidity during your trip. So, do not hesitate to choose good quality products! 
Then comes the time to add heating and electricity. Here again, this is an essential step where you should not do things by halves. Evaluate beforehand the number of devices that will benefit from electricity so as to define the electrical diagram of your van. Don't hesitate to add an extra outlet or two so that you don't run out and have to buy extension cords later. You might as well plan everything and not get bogged down later! 
On the heating side, you can choose a gas or diesel backup system. A toxic gas detector is, in our opinion, absolutely essential. Thus, in the event of a build-up of carbon monoxide, the detector will signal it. 
Finally, the last step is to furnish and decorate your van. The development of the van is coming to an end and it is now the stage that Roadtrippers prefer. You can put all the furniture you want in your space. Opt for a convertible, objects that have several functions, and optimized cupboards. Decorate to your taste, and add plants, lights, and books. All that's left to do is get your van homologated and hit the road. 
Also read:  Preparing for your road trip