What Is Chinos Over Shirt
Discovery of two new summer pieces from The Nines: an overshirt and a chino made from a linen and cotton blend.
Today, we meet for a crash test. The brand The Nines, originally specialized in shirts, has decided to launch a new range of clothing that is always essential. It was for the launch of their very first overshirt that they kindly sent me their pieces so that I could test them. On the occasion of this outing, I received a navy blue overshirt with one of their olive-coloured chinos, enough to make a great outfit.
Linen and cotton overshirt
Let's start with the overshirt, this piece that has its origins in the military (like many clothes in the men's wardrobe). This overshirt, at first glance, looks like a classic overshirt. Relaxed cut, buttons, and chest pockets, the base of the overshirt. But, when I took a closer look, I noticed many significant details. First, the material: a blend of linen and cotton.
For this overshirt, wanting to be for the summer, the 16% linen added to the cotton is frankly welcome. These two materials: are sure values. Natural, absorbent, hypoallergenic, resistant, the list goes on. One thing is certain, these are two natural materials with many qualities that are highly appreciated in summer.
For the rest of the details, I was pleasantly surprised to find that one of the two side pockets has a zip so that we can keep what's in our pockets warm. There are also lovely buttons in corozo (which is nicknamed vegetable ivory). The advantage of this jacket is that you can wear it with a lot of things.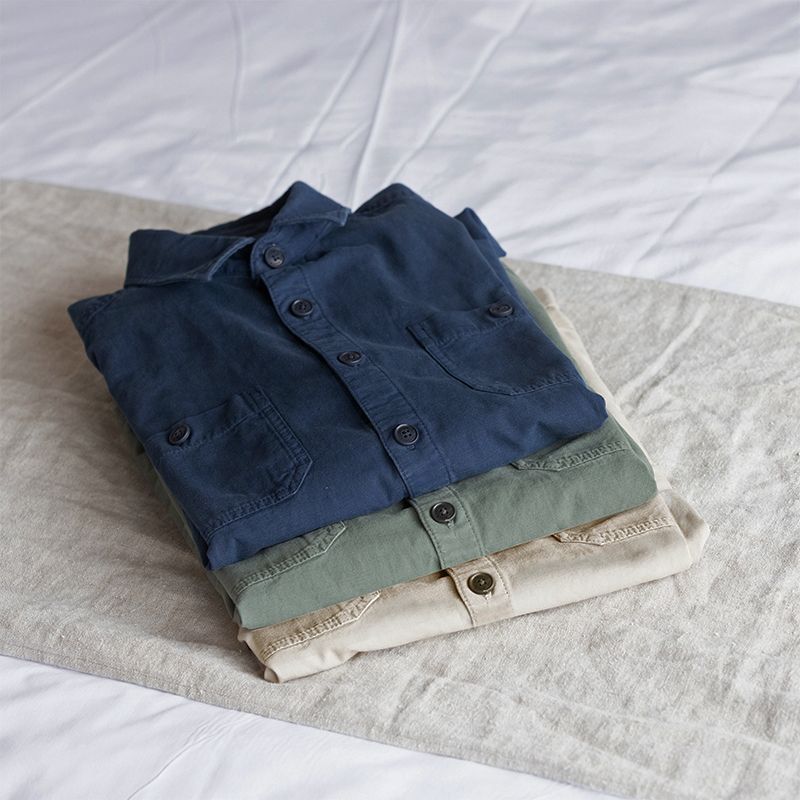 It's kind of the perfect piece for layering, and therefore layering your clothes. Combine it with a shirt, or a simple t-shirt depending on the look you want to give to your style. For my part, and given that I received it with it, I decided to associate it with olive chinos, as well as a classic t-shirt.
Those chinos, by the way, let's talk about that too.
Linen and cotton chinos
Chinos, as we all know, are an essential part of the men's wardrobe. Like the overshirt, it has its origins in the military. It was the English soldiers who, in India and Pakistan, imagined the chino. It was indeed such heat, that they needed at all costs light pants to withstand the heat. That's it for the story point, let's get back to The Nines chinos.
This one too there are things to say about it. Firstly, The Nines team made the choice of a rather interesting composition. These chinos are made of 84% cotton and 16% linen. Enough to have pants that are both sturdy and light. For details, as well as the overshirt, one of the two pockets is zipped.
Which is a detail that may seem subtle but which to my taste is very important. I also notice a detail that can be seen when hemming. Indeed, the interior seams are braided. If you, therefore, prefer a more casual look, you can make a hem, it will remain just as aesthetic.